Restaurants – Extension of Premises
Restaurants located in incorporated cities or towns please see the League of Arizona Cities Towns website for details on the process for your community.   Below please find a summary of counties that have taken local action regarding extension of premises in the unincorporated areas of the county.
Maricopa County – Temporary Extension of Premises – Patio for Outdoor Eating and Serving for Social Distancing during the COVID-19 Pandemic.
Application Process: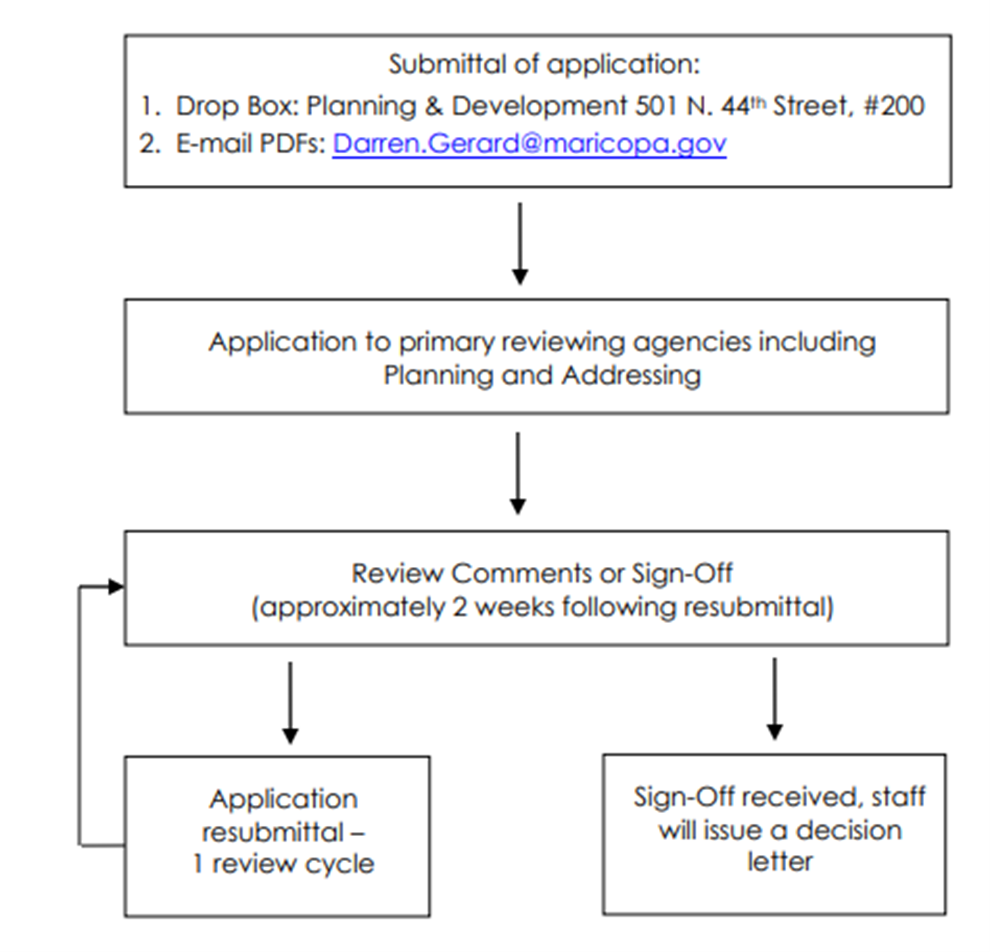 Guidelines:
If a Plan of Development or Plan of Development Amendment is being submitted to solely provide for temporary extension of premises/patio for seating and/or serving areas (whether or not submitted in conjunction with an "Extension of Premises Food Establishments" application to MCESD) to promote social distancing during the COVID-19 pandemic, it shall be subject to:

Land Use (As-Built Plan of Development / Plan of Development of Record) application,
There shall be no application fee.
The applicant shall provide an aerial or site plan that identifies the temporary premises/patio extension area for dining/drinking,
Safe and efficient pedestrian and vehicular circulation and vehicle parking must be maintained, accessible parking and paths must be maintained, fire lanes must be maintained, and a
Narrative explaining the temporary extension of premises/patio.

Approval of the local fire jurisdiction will be a condition of the approval
The approval is valid only for the duration of the COVID public health emergency as declared by the Governor of Arizona and shall expire when the state of emergency ends.
Temporary development shall adhere to requirements of the respective zoning district as outlined in the Maricopa County Zoning Ordinances.
A construction permit will not be required for temporary structures even those erected for periods greater than 96 consecutive hours if the structure does not have electric service and are erected in conformance with manufacturers specifications and safety codes.
Pima County – Temporary COVID-19 Minimum Health Standards for Businesses – Proclamation (Updated July 7, 2020)
Section #2 – The Pima County Board of Supervisors adopts the following temporary modifications to zoning requirements applicable to restaurants or other dine-in establishments to provide more usable seating area to maximize physical distancing.

Review Process: For unincorporated areas, Pima County Development Services Department will provide same day review and evaluation for proposed temporary outdoor expansion. A simple floor/plan, landlord/owner consent letter, and vehicle barrier diagram (when located in parking lot) can be submitted by email to DSDPlanning@pima.gov for review.
Governor Executive Action Regarding Liquor Licenses and Extension of Premises
Executive Order 2020-60 – Easing Regulations to Encouraging Outdoor Dining
After a local government has approved the temporary extension of the premises the DLLC is required to accept and review requests from liquor license holders for a temporary extension on their premises outdoors to mitigate the spread of COVID-19
Requires the temporary extension of premises to include separation of the area to monitor ingress and egress, limit access to minors and allow for the monitoring of consumption of alcohol
Allows temporary extensions to be noncontiguous, but may not exceed 60 feet from the permanently licenses premises or require the extension to be permanent
Additional Resources:
$1 million to help dining establishments expand outdoors (outdoor furniture, barriers, patio heaters, patio covers, etc.) allowing up to $10,000 per dining establishment
The Arizona Commerce Authorities Small Business Bootcamp resources can be found here.