New Document Spotlight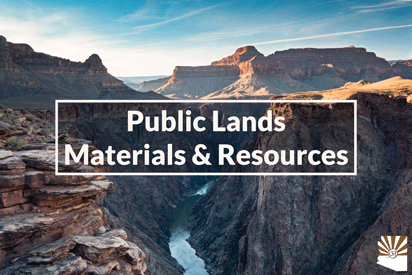 Public Lands Materials & Resources
Quick links to background, data, research and resources for county public lands advocacy.
Includes information on state and federal lands, Payment In-Lieu of Taxes (PILT), Secure Rural Schools (SRS) Funding. 
State Trust Land
History of State Trust Land
Water Policy & Arizona Counties
Arizona Water & Arizona Department of Water Resources (ADWR)
Governor's Water Augmentation Council (GWAC)
ADWR Resources Planning
ADWR Planning Area Meeting
Arizona's Water Initiative
Planning Area Process Meetings: Mohave (Northwest Basin); La Paz (West Basin); Cochise (Lower San Pedro) efforts are underway.
ASU School of Sustainability Video: Camels Don't Fly, Deserts Don't Bloom :One hundred miles west of Phoenix, a Saudi-Arabian owned farming operation grows hay year-round in the desert. Why Arizona? And what does this mean for the future of water resources in the state? Seven students from Arizona State University follow the story, under the direction of Peter Byck.