CSA 2023 Policy Summit
High Country Conference Center
Flagstaff, Arizona
October 11, 2023 – October 13, 2023
We are extremely pleased to have Coconino County as our county host this year for our CSA 2023 Policy Summit and are looking forward to seeing everyone.  We are so grateful for your interest in participating and we look forward to your involvement in this important event!
The CSA Summit convenes county supervisors and professional staff to accomplish the following:
Discuss political context (legislative make-up, emerging issues) and create a foundational educational opportunity for elected officials and staff.
Reach agreement on CSA legislative agenda and advocacy strategies for the upcoming legislative session.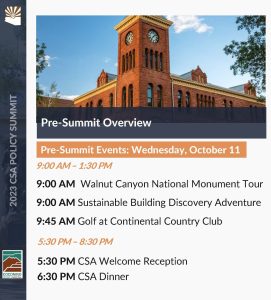 Please click here or the County Registration tab on the left to register for this year's Summit.
Please click here or the Sponsors Registration tab on the left to register as a 2023 Summit Sponsor.  Please contact Penny Adams (pennya@countysupervisors.org) for information on becoming a Summit Sponsor.
If you need any additional information or have any problems registering, please contact CSA at 602-252-5521.