CSA 2020 Legislative Policy Summit
Virtual Event
October 21-23, 2020
Due to the challenges of holding the Summit in person this year because of COVID-19, the difficult decision was made to move the 2020 Legislative Policy Summit to a virtual forum.  We are so grateful for your interest in participating and we look forward to your involvement in this important event!
The CSA Summit convenes county supervisors and professional staff to accomplish the following:
Discuss political context (legislative make-up, emerging issues) and create a foundational educational opportunity for elected officials and staff.
Reach agreement on CSA legislative agenda and advocacy strategies for the upcoming legislative session.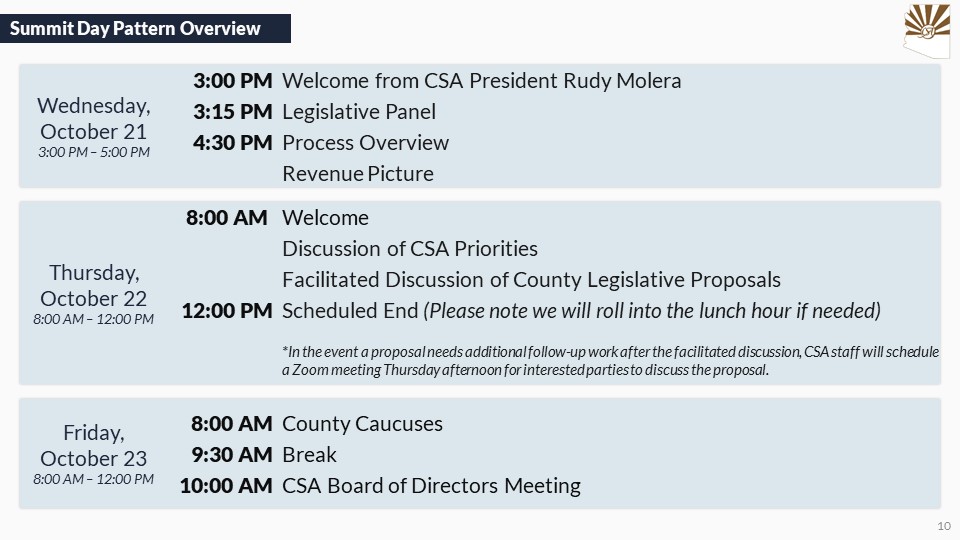 Please click here or the CSA Summit Registration tab on the left to register for this year's virtual Summit.
Please click here or the CSA Summit Sponsors tab on the left to view our Sponsors for the Summit.
If you need any additional information or have any problems registering, please contact CSA at 602-252-5521.